Sailing Navigation Courses — OSS 105
Piloting and Electronic Aides

During an Offshore Sailing School Coastal Navigation course (OSS 105) you learn electronic navigation with emphasis on back-up piloting, using traditional navigation aids. You may think with GPS, chart plotters, and other electronic aids you don't need to know the theory and techniques of piloting with charts and the stars. When batteries die and electricity fails on your boat, you always should have a back-up, and that's what you will learn in our comprehensive sailing navigation courses. Join a boat navigation course below and get in touch if you have any questions.
Enroll Today!
"You get a lot out of these courses because of the depth of experience of the instructors. My Coastal Navigation instructor had circumnavigated the globe in a round-the-world regatta. You can't ask for more experience than that."

Gregory Pierson – New York, NY
Read more testimonials here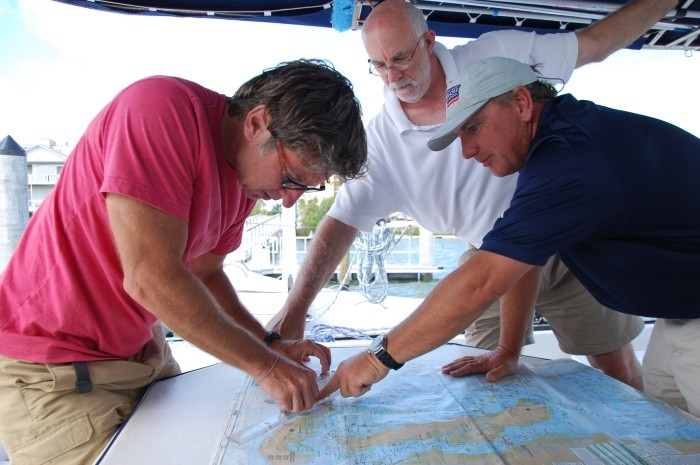 Comprehensive Coastal Navigation Course – OSS 105
This comprehensive sailing navigation course is offered in our shore classrooms over a one or two-day period*, following two days of home study. You may also take it in conjunction with our Coastal Passage Making Course, as the first one or two days* are all about Navigation *Check with your Sales Associate to learn which course dates are one or two day of Navigation..
*Navigation schedule will change to one day before Coastal Passage Making for some dates in 2024. Check with our Sales Associate.
OSS 106 – Coastal Passage Making Courses Include Extensive Navigation Instruction
During this time you work through the US Sailing Coastal Navigation Course textbook exercises with an expert Offshore Sailing School instructor. The one or two-day classroom Coastal Navigation Course is available on select dates at our Florida campuses. No sailing experience is required if you are just taking the shore-based navigation portion of a passage making course.
Our Sailing Navigation Course covers:
Charts, chart types and corrections
Aids to navigation
Navigational inputs
Piloting
Deviation and variation
Plotting set and drift
Bearings
Running fixes
Lines of position
Ranges
Tides and currents
Speed, time and distance
Log procedures
Electronic navigation
Inshore piloting
Learning about navigating in fog
Learning about navigating in heavy weather
Prerequisites: No sailing or prior navigation experience required
Sailing Navigation Course packages include:
Complete one or two-day Coastal Navigation Course, following two days of home study
US Sailing Coastal Navigation textbook
US Sailing Coastal Navigation certification testing
Three nights accommodations and daily resort fee plus taxes
Testing for US Sailing Coastal Navigation Certification
Course diploma
Colgate logbook (or page for logbook if you have taken other Offshore Sailing School certification courses)
Coastal Navigation Certification sticker for logbook sent from US Sailing after course if you pass certification test
Exclusive benefit from The Sailing Company – your choice of a year's subscription to Cruising World or Sailing World magazine, sent to U.S. mailing address
Sample Schedule for OSS 105
Day 1*
9:00-12:00 – Classroom lecture and exercises
12:00-2:00 – Lunch break
2:00-5:00  – Classroom lecture and exercises
Day 2*
9:00-12:00 –  Classroom lecture and exercises
12:00-2:00 – Lunch break
2:00-5:00 – Coastal Navigation Certification Test
*Call 888-454-7015 to confirm course schedule on specific dates at specific locations.
Offshore Sailing School knows we cannot thrive without great employees and products. All graduates are asked to fill out an evaluation at the end of the course. The following testimonials come from those evaluations and individual correspondence with recent graduates of the Catamaran Live Board Coastal Navigation Course, or shore-based navigation courses. Many are happy to correspond by email or phone with you. If you would like us to put you in touch with anyone below, please call 888-454-7015 or email sail@OffshoreSailing.com.
"Class work was great and I plan on using it on my next sail."
Sam Hahn – New York, NY
"This is an excellent teaching/learning experience with intensive plotting and chart work. Our instructor was very clear and precise in his explanations, obviously understood the topic, and was very patient with the class."
Brian Chanatry – Jamesville, NY