Family Learn to Sail Programs
Buy the Boat Option for Families and Friends
Special pricing is available for family sailing courses if you have a group that wants to learn together, allowing up to five students to learn to sail or cruise all on one boat. This is the only time (except for the Offshore Passage Making Course) where we teach more than four students per instructor per boat. This learn to sail vacation option is popular for couples who want to take a course together, and families of four or more with older offspring. For a quote, call 888-454-7015 and ask for "Buy the Boat" options.
Tweens and Teens Learn Free at Family-Friendly Florida Resorts
Treat your family to a memorable family sailing vacation at one of our family-friendly seaside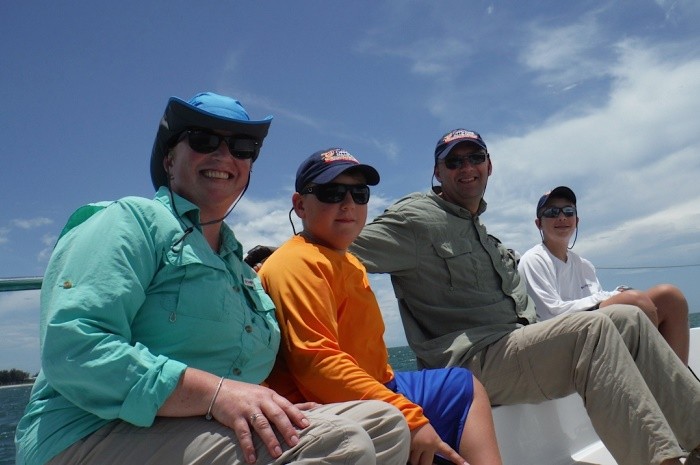 resort locations on the Gulf of Mexico. A 5-day Learn to Sail Course package includes accommodations and the cost of just two tuitions for a family of up to five (one or two adults and three youth 7-17 years of age).
Sail, Play and Explore
The sailing lessons for kids package has a half-day learning schedule that allows plenty of quality time to enjoy other activities to
round out your vacation. Rent bicycles, jet skis, fishing skiffs. Enjoy paddle boarding on the Gulf of Mexico, go swimming and collect amazing shells. Explore nearby wildlife preserves, fish off the pier. Enroll the kids in special educational programs just for them while you relax with a great book, walk or run on special paths, and head to the spa on your sailing family vacation.
At Beautiful Beach Resorts
Check out these two great resort locations and call 888-454-7015 for rates on terrific family sailing vacations.
Tweens and Teens Learn Free and Family Sailing packages include:
Instruction for everyone aboard in the 5-day Learn to Sail Course
Two copies of Steve and Doris Colgate's Fast Track to Sailing book, published by McGraw-Hill for Learn to Sail
US Sailing Basic Keelboat Certification for two paid students (additional certification for ages 9 and above is $75 per person)
Diplomas and log books to take home
Accommodations, room tax and resort amenity fee
"Jacek was a great instructor. I attended this course with my wife and three of our children. He was very patient and made sure everyone understood the material. We all loved the course."

Jeff Breymaier – Maumee, OH
Book Early for First Choice Dates at Resort Locations
Family sailing courses start Monday morning. Plan to arrive Sunday night and leave the following Friday afternoon, or stay an extra day to make getting home less of a rush. Don't forget to purchase trip insurance to give you peace of mind when you book your vacation.
"This was a family course for us and my two children (9 and 11), who were a little apprehensive at times. Despite that, on our sail Friday without an instructor, we all put what we learned to work and had an excellent day at sea! It is obvious that Offshore Sailing School puts a lot of effort in their selection of instructors. We thoroughly enjoyed the class and look forward to getting back out on the water with our newly gained sailing confidence."

Kyle Couture – Birmingham, AL
THE FINE PRINT
Buy the Boat discount options available only for groups of three or more, private courses for two are also available
Tweens and Teens Sail Free is only available if you purchase the full accommodation packages
Offer available only on the 5-day Learn to Sail course, not on any other course levels offered for Teens and Tweens Sail Free; Buy the Boat discounts available on all courses except Performance Sailing, Racing and Passage Making courses
Reservations for resort-based courses are taken on a space available basis, minimum three weeks in advance of course start date
Black-out dates may apply
Tuition and package rates subject to change and vary by season
Terms and Conditions Agreement sent when course is booked, must be signed and returned before course is confirmed
Tweens and Teens must be between the ages of 7 and 17; no age limit on Buy the Boat discount
At least one adult (preferably a parent) is required to participate with Tweens and Teens
These deals may not be combined with any other discounts or offers
Call 888-454-7015 or 239-454-1700 for resort courses
Email Sail@OffshoreSailing.com