Family Learn to Sail & Bareboat Cruising Programs
Buy the Boat Option for Families and Friends
Get the most out of your vacation with our fun sailing for kids and family programs. Special pricing is available for families who want to learn together, allowing up to four students to learn to sail or cruise all on one boat for one package price. Buy the Boat reservations are designed for families and close relatives who want to learn together. The reservation must be made and paid for by one person for the entire party, with all students participating in the course named on the reservation. For a quote on our sailing with family options, call 888-454-7015 and ask for "Buy the Boat" options.
Another Offshore Sailing School Exclusive: Specially-priced Family Cruising Package
Our most popular Fast Track® to Live Aboard Cruising Course is available at all of our locations. A family of 4* comprised of two adults and two family kids, minimum age 12 and maximum age of 25, will receive special Family Cruising package price to share a one bedroom suite at the resort for 3 nights** (Wednesday through Friday with 2 queen beds in one bedroom and sleep sofa in living area), then share three cabins aboard the monohull or catamaran yacht from Saturday to Thursday. Everyone has the option of taking the written and practical tests to receive three US Sailing certifications, plus Catamaran Endorsement if you learn aboard that yacht, to skipper a yacht up to 50′, and apply for your International Proficiency Certificate if you wish to charter in Mediterranean countries. Perfect opportunity to reunite family members, learn to bareboat charter together, and enjoy countless boating vacations in the future! Call 888-454-7015 for availability and monohull or catamaran pricing.
*Third family child between ages of 12 and 25 may be added to course reservation at additional cost of $750, plus resort amenity fee if applicable.
**Hotel accommodations are not included for the Key West, Florida, location. You make your own arrangements.
Two-bedroom suite may be available with four queen beds and sleep sofa at additional expense; ask for availability at time of enrollment.
'Tweens and Teens Family Sailing Vacation – OSS 101 – Learn to Sail Course
Treat your family to a memorable family sailing vacation at one of our family-friendly seaside locations in Florida or the Caribbean. A 3-day Learn to Sail Course package includes resort accommodations with value pricing for a family of up to four* (two adults and up to two children ages 7-17). Anyone age 18 or above is considered adult. A family of five with three children may take the course together and share the two-bedroom accommodations at the resort, but a fee of $750 for the third child will be added, plus resort amenity fee if applicable. If you wish to add a third person age 18 or older, this Family package rate does not apply and you will be quoted a standard buy-the-boat rate. You must take the resort accommodation package as offered – if you choose the Key West, Florida, location, you make your own hotel arrangements. If you want fewer than five night resort accommodations, you will be quoted the standard buy-the-boat rate.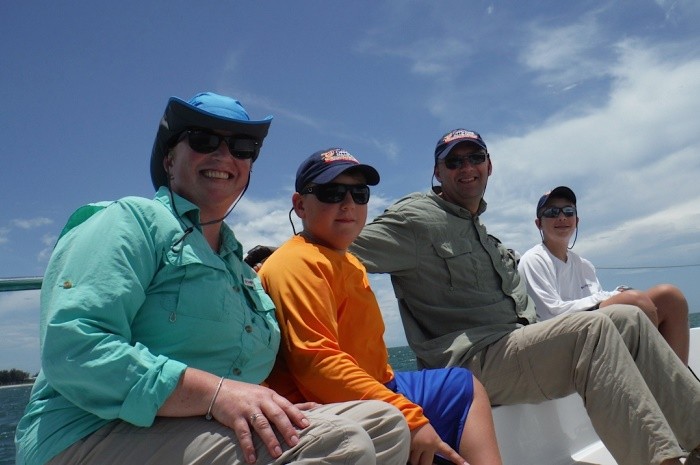 Sail, Play and Explore
The sailing lessons for kids package has a 5-night resort stay combined with a 3-day learning schedule that allows plenty of quality time to enjoy other activities to round out your vacation. Rent bicycles, jet skis, fishing skiffs. Enjoy paddle boarding on the Gulf of Mexico, go swimming and collect amazing seashells. Explore nearby wildlife preserves, fish off the pier.
Sailing with Kids At Beautiful Resorts
Check out these two great locations and call 888-454-7015 for rates on terrific family sailing vacations.
*Pink Shell marina is currently under renovation so course is not available at this location at this time.
Family Learn to Sail package includes:
Instruction for everyone aboard a Colgate 26 in the 3-day Learn to Sail Course
Two copies of Steve and Doris Colgate's Fast Track to Sailing book, published by McGraw-Hill for Learn to Sail
Two copies of US Sailing Basic Keelboat textbook
US Sailing Basic Keelboat Certification for two paid students (additional certification for ages 7 and above is $75 per person)
Diplomas and log books to take home
2-room accommodations, room tax and resort amenity fee (for up to four people; may add fifth child at additional expense)
Book Early for First Choice Dates at Resort Locations
Courses for sailing family Learn to Sail vacations start on Monday morning. Plan to arrive Sunday night and leave the following Friday afternoon, or stay an extra day to make getting home less of a rush. Don't forget to purchase trip insurance to give you peace of mind when you book family sailing lessons.
THE FINE PRINT FOR FAMILY LEARN TO SAIL PACKAGE:
Buy the Boat options are available only for groups of three or more. Private* courses for two are also available
All parties participating in a Buy the Boat or Private* Couples option must be booked at the same time on the initial contract and paid for by the individual booking the course on that contract; additional students may not be added at a later date
Tweens and Teens Family Sailing Course is only available if you purchase the full accommodation package as offered
Reservations for resort-based courses are taken on a space available basis, minimum three weeks in advance of course start date
Black-out dates may apply
Tuition and package rates subject to change and vary by season
Terms and Conditions Agreement sent when course is booked, must be signed and returned before course is confirmed
'Tweens and Teens must be between the ages of 7 and 17
At least one adult (preferably a parent) is required to participate with 'Tweens and Teens
These deals may not be combined with any other discounts nor offers
*Private refers to time on boat only. Classroom sessions may include other students in same course but on different boat
"This was a family course for us and my two children (9 and 11), who were a little apprehensive at times. Despite that, on our sail Friday without an instructor, we all put what we learned to work and had an excellent day at sea! It is obvious that Offshore Sailing School puts a lot of effort in their selection of instructors. We thoroughly enjoyed the class and look forward to getting back out on the water with our newly gained sailing confidence."

Kyle Couture – Birmingham, AL